Post by Forum Administrator on Oct 17, 2009 1:00:52 GMT -5
Name:
Vicki
HF Forum Username:
Vicki
1. Where did you first learn about natural diets for ferrets?
Not quite sure, it's been a while. Internet, for sure.
2. Please describe the type of diet you would like assistance in switching your ferret(s) to. Be sure to include if you are interested in feeding whole prey (live or frozen-thawed) and if you are wanting to FULLY switch to a natural diet or PARTIALLY. If you are unsure what kind of diet you want to put your ferrets on, please express that and we can help you find the best type of natural diet for your ferret.
I have 6 ferrets. One refuses anything but kibble, and a specific kibble. 5 eat raw, but each are picky. I'm interested in switching to a fully raw diet, if possible....but unsure about traveling needs.
3. Why are you interested in switching your ferrets to a natural diet?
I want to make them as healthy as possible.
4. Do you understand that switching your ferret to a natural diet can be a lengthy, arduous process? Its not an overnight switch. It can be a commitment of several weeks or even months. Your HF Mentor will be more then happy to assist you in switchng your ferret(s) to a natural diet, but you need to be equally as commited. If you aren't willing to tough out a potentially lengthy switching process, or if you have major life changes approaching (baby on the way, moving, starting school, getting married/divorced, etc) then it might be a better idea to wait on switching your ferret's diet until you have more time. Are you willing to make the commitment?
Yes, I understand. I've been feeding raw for 3 months now, with most of them eating it...just a few problems and Munchkin not eating it at all.
5. How many ferrets do you currently have? What are their names? Ages? Genders? Do they have any health problems? Are they overweight? Underweight?
1. Pooh Bear- 2, Girl, no health problems, average weight with decent muscle tone. 2 lbs
*Pooh Bear eats all raw
2. Munchkin- 2, Girl, a "sickly" ferret (tends to get minor illnesses often), fat in weight, little muscle tone. 2.4 lbs (much shorter than Pooh Bear, a stubby little thing)
*Munchkin eats no raw
3. Jack - 1.5, Boy, no health problems, thick in weight, very muscular. 3.5lbs (average length, slightly stocky)
*Jack eats all raw and begs for more
4. Jasmine- 1.5, Girl, no health problems, very small frame but has bulked up on raw, decent muscular tone. 1.5 lbs
*Jasmine will take tiny bites of raw meat, sometimes bone
5. Mickey- 3 to 4 yrs (unknown), Boy, no health problems, average size, very muscular. 3 lbs
*Mickey will eat some raw...but doesn't prefer it
6. Rascal- 3 to 4 yrs (unknown), Boy, no health problems, thicker in size, decent muscle tone, 3.5 lbs (very long body)
*Rascal will eat some raw...but doesn't prefer it
6. What diet do you currently feed your ferrets? (Please include all treats, supplements, etc)
Mornings and Evenings I put in one or a mix of two: cut up quartered chicken thighs, ground chicken-bone-organ <hare today>, chicken gizzards, cornish hen cut up, beef cuts, calf liver (liver fed once a week), chicken liver, turkey tails..... really whatever I can find on sale at Winn Dixie. I also add 1/2 a cup of Wellness Core cat food to their bowl. It doesn't seem like much, but Munchkin is definitely NOT losing weight, so I keep it minimal. No stomach problems or poop problems have occurred.

7. Have you ever tried to switch your ferrets to a natural diet in the past? If yes, what happened?
We did try it once a year and a half ago. We were unsuccessful to switch a few, and we were rescuing ferrets at the time and didn't have the time or money to feed to each of their preferences.
8. What additional information about yourself or your ferrets would you like to share?
We are open to try a lot...but will not try whole prey right now.
9. How often during the week do you have access to a computer?
Everyday, but in school and working so may be night or morning before I respond
10. Please post a picture of each of your ferrets (if possible).
*These aren't the best pics, but I wanted to get it of their body type
Pooh Bear
Munchkin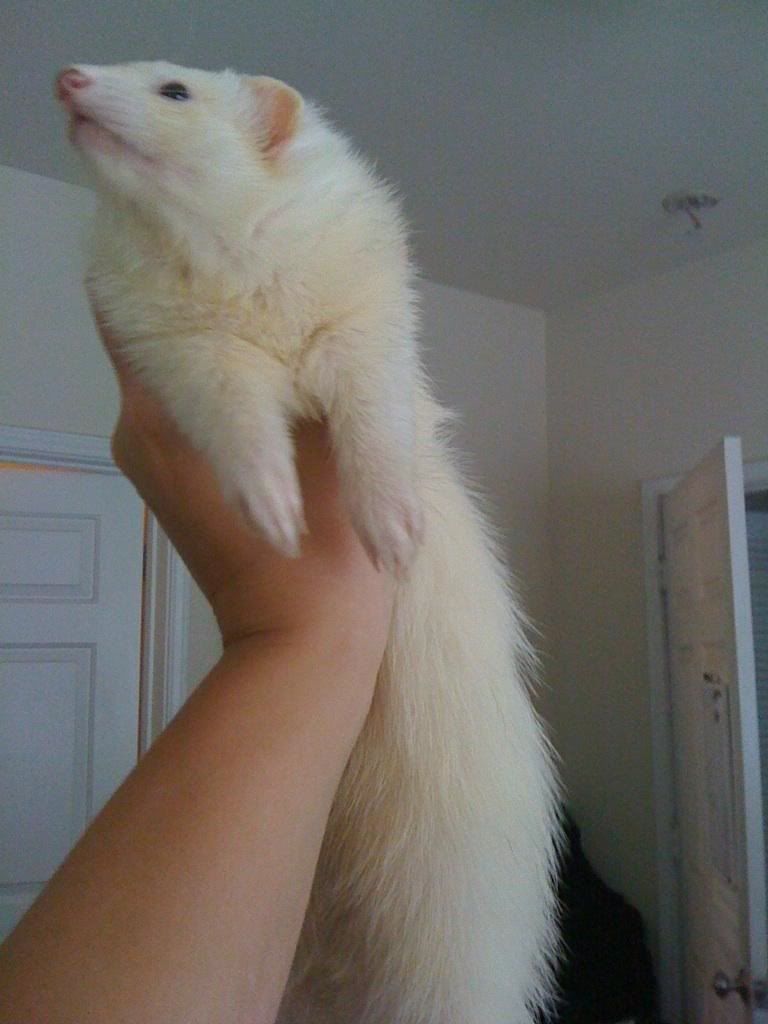 Jack
Jasmine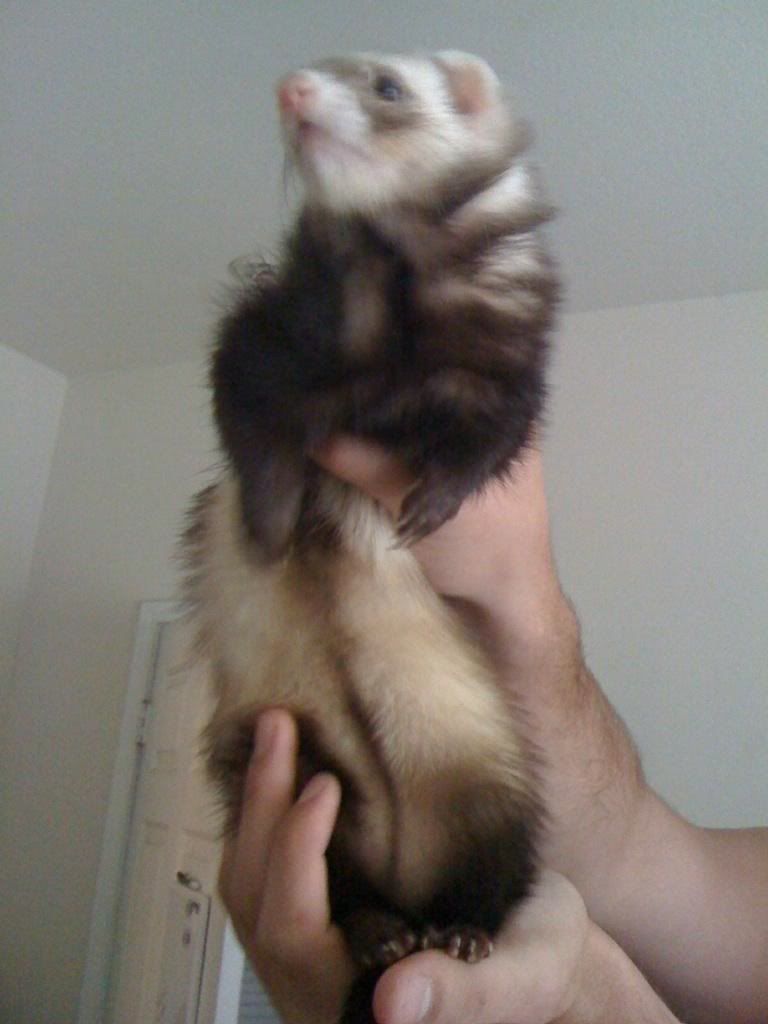 Mickey
Rascal