Hi
Jan 27, 2011 3:09:49 GMT -5
Post by loveless on Jan 27, 2011 3:09:49 GMT -5
Hi, I've decided to finally come out of lurking and say hello. I've been looking into a more natural and healthy diet for my ferret for some time and with a new fuzzy little addition to the family. I currently have two ferrets one male sable named Richard and recently a young female silver named Slink. The pictures arn't that good at the moment but i hope to get better ones soon.
Richard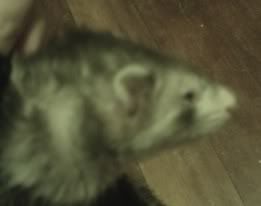 Slink
I'm a rather methodical pet owner and I usually put at least a year of good research into any pet before I get one. I had done a good amount of research and had decided on just about everything but deiced to put official ferret ownership until I moved out of my small apartment. Unknown to me Richard had other plans and walked into my life. Quite literally to. I had taken a week off of work for a nice little staycation in July. Since I was staying home my brother asked me to look after his chiwawa for him so he could go to a football game his friend won tickets to. I was relaxing inside reading a book with the door cracked open so the antsy little dog could come and go when an odd noise made me look up. Needless to say I was rather shocked to see a ferret wandering into my place in an attempt to get out of the heat. The little guy was thin, scraggly, and overheated. I immediately got him some food and water as well as cooled him down.
I had him checked out and spent my entire vacation nursing the little guy back to health. During which Richard superglued himself to me and struck up the oddest friendship I have ever seen with my rabbit Frank. The adorableness of a scruffy ferret grooming and being groomed by a rabbit will rot your teeth out. With an extreme monkey see monkey doo love for Frank I found myself owning a ferret that thinks it can jump.
After a month of searching were were unable to find Richard's previous owner. I've had him for a year now and he's bloomed from the emaciated scraggle muffin to a rolly-polly snuggle pie.
A year later and I've move from my apartment to a nice house. During the move Richard's cage got damaged so i put an add on craigslist looking for a new cage. I got a wonderful reply from a couple looking for a new home for their little fuzzbutt. It felt like fate since I was planning on getting him a companion after I had settled in anyway so now I have a new home for me and Richard as well as a new ferret friend for him.
With all that I've gotten a slight shift in work coming up. A little more free time and money so i plan on switching them to a raw fed diet for the health benafits