Post by Forum Administrator on Oct 10, 2009 4:59:13 GMT -5
Name:
Jakk
HF Forum Username:
jakkfurret
1. Where did you first learn about natural diets for ferrets?
---Originally I looked into raw diets for my mother's dog, after doing all the research I did she didn't do it but it empowered me to feed all my animal raw if I could. So when i got my first ferret Cooper I knew that I wanted to drive head first into it.
2. Please describe the type of diet you would like assistance in switching your ferret(s) to. Be sure to include if you are interested in feeding whole prey (live or frozen-thawed) and if you are wanting to FULLY switch to a natural diet or PARTIALLY. If you are unsure what kind of diet you want to put your ferrets on, please express that and we can help you find the best type of natural diet for your ferret.
---I want to feed primarily raw meat and bones with whole prey maybe once every other week. My SO is not okay morally with with whole prey but has agreed for every other week at the most. Although I hate the idea of feeding kibble I am afraid that if I had to part with my trio for some reason (ex. vacationing in a non-ferret friendly state) that I would not be able to find someone willing to feed then raw. But I do not know if this fear is irrational or if it would be benificial to keep at least a small portion of kibble in their diets.
3. Why are you interested in switching your ferrets to a natural diet?
---I really want my little ones to have the best I can physically give them.
4. Do you understand that switching your ferret to a natural diet can be a lengthy, arduous process? Its not an overnight switch. It can be a commitment of several weeks or even months. Your HF Mentor will be more then happy to assist you in switching your ferret(s) to a natural diet, but you need to be equally as committed. If you aren't willing to tough out a potentially lengthy switching process, or if you have major life changes approaching (baby on the way, moving, starting school, getting married/divorced, etc) then it might be a better idea to wait on switching your ferret's diet until you have more time. Are you willing to make the commitment?
---Yes I am completely committed to providing my trio with the best I can give them no matter how long it may take.
5. How many ferrets do you currently have? What are their names? Ages? Genders? Do they have any health problems? Are they overweight? Underweight?
---
Cooper
- 8 months old, male, and might be a little pudgy but I don't have anything to properly compare him to
---
Kasrah
- We honestly have no idea how old, female, and no know health problems, she is extremely underweight
---
Polly/Kitt (name not set yet)
- We honestly have no idea how old, female, may have an old spinal injury and may have other issues related to past mistreatment, she is extremely underweight
6. What diet do you currently feed your ferrets? (Please include all treats, supplements, etc)
---I currently feed all three Wellness Auper5 Kitten kibble. Cooper eats raw chicken breast as a treat and has eaten a raw chicken leg meat but left the bone. Kasrah and Polly/Kitt gets a soup mix made from kibble and chicken broth because they are just so skinny. Prior to the girls coming to us they were fed nothing but Dad's Cat Food (
link
)
7. Have you ever tried to switch your ferrets to a natural diet in the past? If yes, what happened?
---I have never with the girls but Cooper is used to eating raw chicken treats, never to be full time, just to get him used to the taste and texture.
8. What additional information about yourself or your ferrets would you like to share?
---I am a college student with a fairly tight budget but I have access to a grocery store that provides cheap but good quality meats and a huge variety of cuts all the way down chicken feet and turkey heads. Polly/Kitt and Kasrah are both rescues so my focus is going to be on getting them back to normal condition before anything else so I may have to start them a while after starting Cooper.
9. How often during the week do you have access to a computer?
---I take my computer with my everywhere so I have access from 7am-9pm (eastern time) everyday of the week and from 12-9pm on weekends.
10. Please post a picture of each of your ferrets (if possible).
Cooper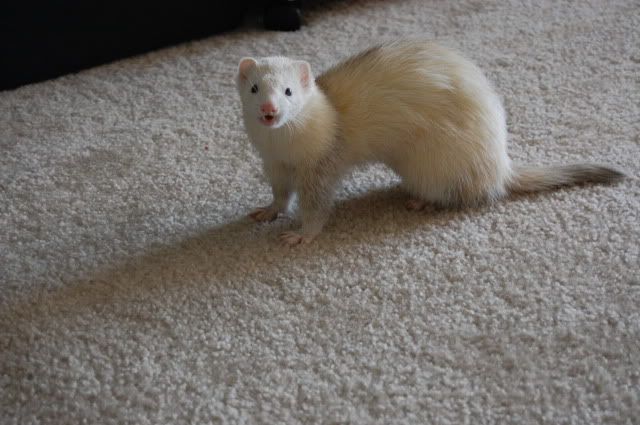 Kasrah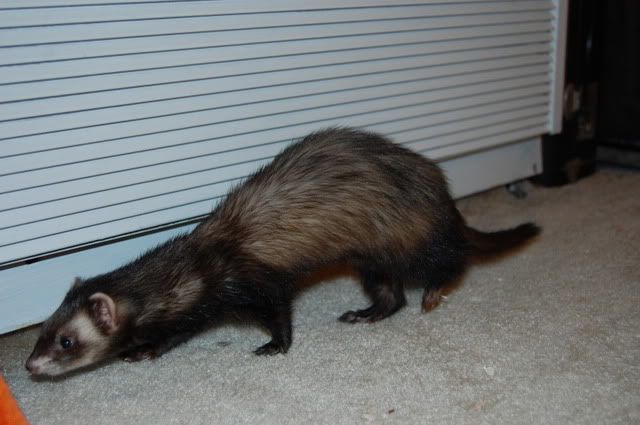 Polly/Kitt