Post by allenya on Jan 18, 2011 20:29:44 GMT -5
Hey,

I'm Ashley, but I tend to prefer to go by either Ami (Am-E) or Allenya (A-len-ya) on the net.
I live in British Columbia, Canada about 4 hours from Vancouver and maybe around 5 from the U.S. boarder.
I love to draw, read, watch movies and listen to most music. I enjoy playing games of all types, board games, card games, video games and computer games. Right now my main game addiction is World of Warcraft, though I fear I'm not very good at it. XD
My passion is baking, if I didn't have to work to pay bills I'd be home all day baking and playing with my babies.

I turned 25 this last year and this coming march my boyfriend and I will have been together 6 years.

I have wanted a ferret for years. They are adorable, fun to play with and watch play by them selves. So a few months ago we site down and talk it over and made a decision to get us a ferret. I found a cage on Kijiji, Ferret Nation on wheels. It looked big when we looked it up online. We called the person selling it. Picked it up two days later. Kept and eye out at the store but we where looking for a local breeder instead.

Then on the 1st of the mouth I find a lady selling two 1.5-2 year old ferrets on Kijiji, same site the cage came from. I contact her. The ferrets are brothers so they go together. Good health and litter trained. She's going to be having a child she hadn't planned of having when she bought them and won't have time. Talk to the boyfriend again and he says yes.

And so we have Zeus and Hades.Now we haven't had them very long at all and I love them. Though they where not litter trained at all so that's been a problem but not a big one really. Zeus is doing the litter box thing find now and Hades is doing very well himself with a littler litter box boot camp. We've had the boys since Dec the 10th.

Here are my boys: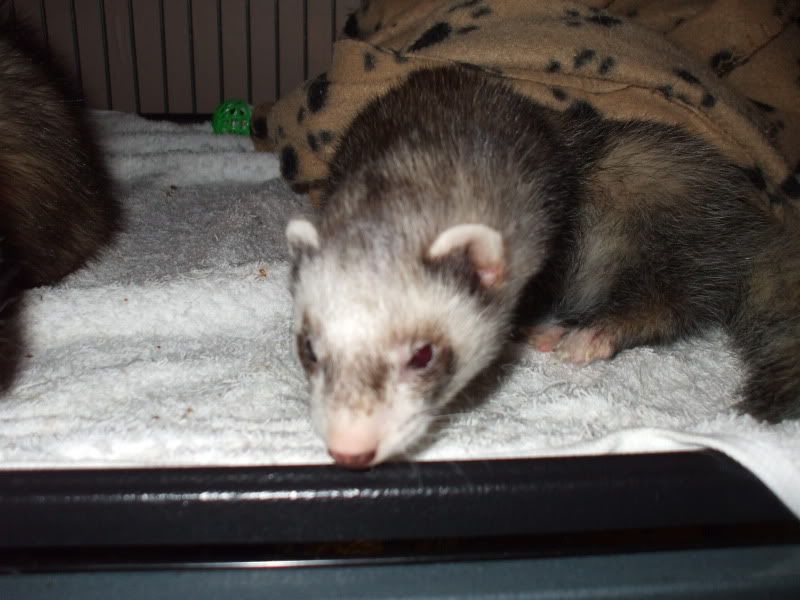 This is Zeus, he's the brat of the pair. Can't open the cage door for more then 30 seconds if he's awake or he'll jump out and scamper off. He likes to 'help' when your filling the food dish and water bowl. Loves his chicken treats and will kiss you to death if you rub his belly. He teases his brother by stealing food right out of Hades mouth too. Though I've started to notice that Hades will 'beat' Zeus up for his treats. XD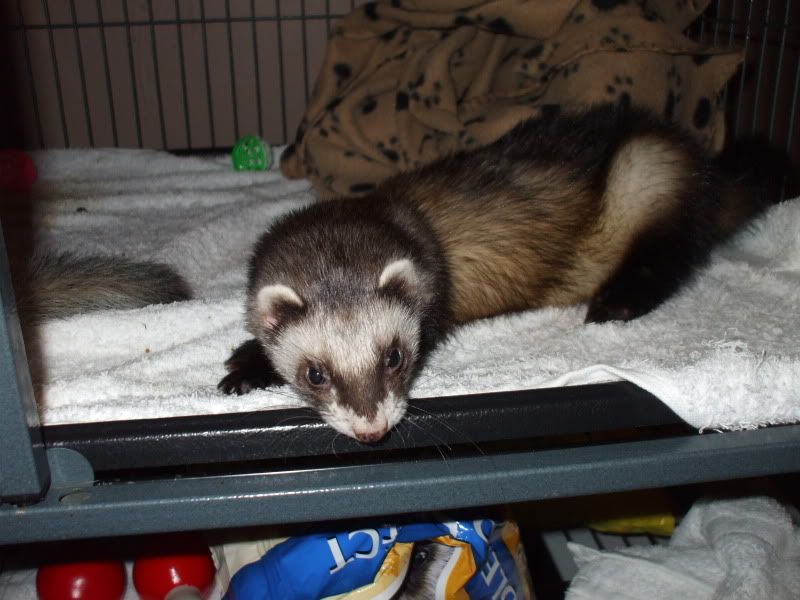 This is Hades, the 'shy' one. You open the cage and he'll come over and look up at you. You can pet him and pull his blankets over his head to play hide and seek but if you try to pick him up and take him out he grabs onto what ever he can and tries to stay in even though he wants out. -.-; This was very confusing the first few times he did it. He loves his squeak toy and will come running the moment you squeak it. Which is good because we where told he loved holes in walls and the last owners had to call the Fire Department to get him out of a wall. He have none in our walls but still, just in case.

They seem to have adjusted to the new home, people and cage rather well and I'm happy I have them.

On Jan the 11th we brought home Nyx. Another Kijiji find for me. She was being sold her $50 by her owners. She's six months old and very sweet though a little skittish and nips now and then. She is litter trained and gets along great with the boys. Her previous owners had lost there older female and Nyx(previously pickles) wasn't doing well all alone. The man is away all week at work, only coming home on weekends. The girl worked a full time job. Neither was home a lot, they'd gotten Nyx to be the older ferrets company not knowing that she was going to pass.

Just to be safe Nyx has her own cage for now though she seems health I'd rather be safe then sorry. The cage she has was to be a travel cage but so it's small but she's not in it much so she seems happy with it. Thy all go to the vet next week so we'll see then when she can be with the boys.



______________

I've been reading the forums, mostly the enrichment section for a while now and have been interested in signing up for some time now. sherrylynne told me about it a few times for different things over at Ferret Harmony as well so here I am.

~Allenya~
;D