Post by Heather on Jan 18, 2011 0:22:13 GMT -5
Somehow, things just never seemed quite right for you here. Things moved too fast, the others played too rough, even though they wanted you to join them in their rough and tumble play. You were happy to just prowl around sniffing and snuffling. You would find a dark corner, and wait for the others to tire and go to sleep. You would then come out. You were at your happiest when someone would pick you up and snuggle you. Unfortunately, in the end, even that caused you to squirm and wiggle trying to find a way to lay comfortably in someone's arms. Your cagemate, didn't understand, he learned to play, climb, make mischief and be a ferret. He made new friends, became wrapped up in his new life, he forgot. You had loved and been loved by your original people. You hadn't wanted to leave. You never really could accept that they could never care for you anymore. They were never aware that you were sick, that a cyst was pushing against your spine giving you a stumbling gait that got progressively worse, until you could no longer walk. In the end, nothing could save you from the progression of that horrible disease, lymphosarcomas.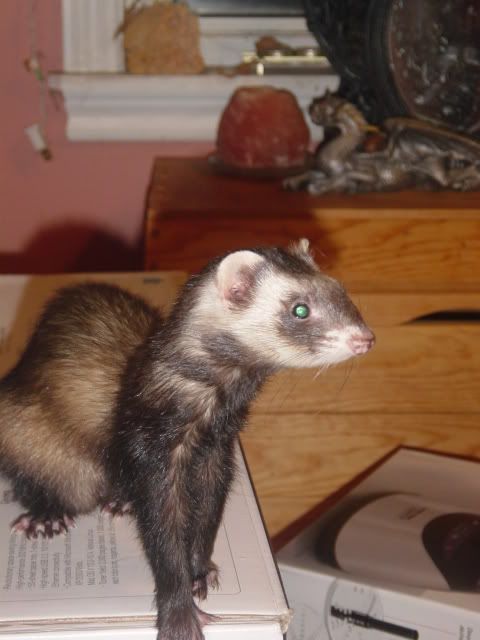 I hope little one that you find what you seek. I know that you now can run, bounce and chase once more. I know that you don't walk alone. Another little one left this world the same time that you did. I understand that he was a gentle soul, that you would probably approve. I hope that now that you are pain free that you are once again happy. I will look after your friend and cage mate. Captain Jack missed you. He looked for you. He said goodbye to you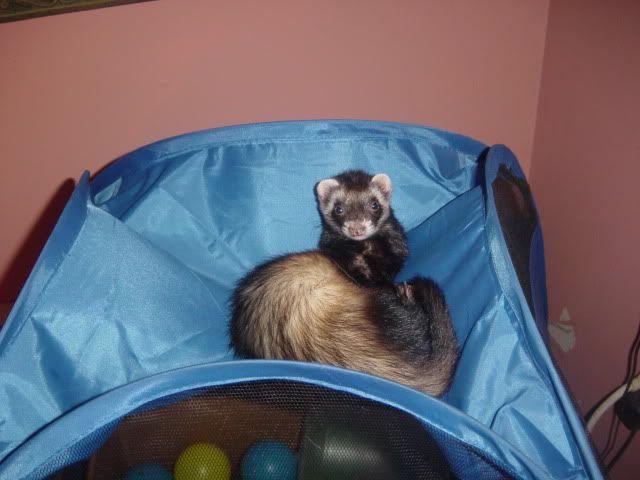 Now I too, must say goodbye to you, my little fuzz, my little misfit who didn't know how to be a ferret. I know that this was never your home, not in your mind. I will miss you, my little one. I don't think you were ever aware how much I cared or how much it pained me to let you go.
Goodbye, my sweet little girl....the house is indeed lonelier. It is indeed a much lonelier place without a little fuzz who didn't know how to be a ferret

ciao