Post by glynus on Nov 25, 2008 9:45:24 GMT -5
1. How many ferrets do you currently have? What are their names, ages, genders, and do they have any health problems (this is VERY important)?
Two: Bastien, male, early stage adrenal. Melinda, female, now healthy

. Both are about 1 ? years old.
2. What are your ferrets currently eating? Include their main diet, plus any treats or supplements (such as duk soup).
Totally Ferret kibble. Bastien gets FerretVite daily with his Melatonin. I have been giving them meat baby food and adding a little raw chicken. Various unhealthy ?ferret treats? (Bandits raisin flavored treats are their favorite)
3. What kind of diet do you want to switch to?
Raw. Don?t think I could do whole prey and KNOW I can?t handle live!

4. Why do you want to switch to this more natural diet?
Bastien is so young to already be showing signs of adrenal disease.. I want to give them the healthiest diet I can.
5. Where/what/who got you interested in natural diets?
Amyandfuzzies7 responded to my questions on the Insulinoma/Adrenal Ferrets group at Yahoo.
6. Please list the current weight for your ferret(s). Do they appear overweight? Underweight? How is there muscle tone?
At last vet visit, Melinda was 1 lb 12; can?t remember what Bastien?s weight was but he is a little bigger than Mel. Neither is overweight. I think Melinda could stand to gain a little.
7. What is the condition of your ferret's teeth/gums? (can you get a picture?)
Teeth are white. Gums are nice dark pink. Might be able to get a picture next time my daughter comes over - I don?t think I can pry open their mouths and hold the camera at the same time!
8. Describe the texture/color of your ferrets coat.
Bastien is sable. Soft fur but thinning . Melinda is albino. Soft and thick fur.
9. How often does your ferret go to the bathroom?
Not sure. Probably 4 -5 times a day?
10. Does your ferret's feces and/or urine smell?
Not really

11. Smell your ferret. How strong is their odor?
Not very strong
12. On a scale of 1-10, 1 being completely lethargic and 10 being "through the roof!" what is your ferret's energy level?
Melinda will be a 9 one day and a 4 -5 the next (like she has to recuperate from the craziness the day before!) Bastien is never quite as hyper as Melinda but he does have his moments. He also seems to follow the one day on, one day off schedule.
13. How excited is your ferret about meal time (when fed kibble)?
They get very excited when they see me fill up the bowl? until they figure out that it?s not treats!
14. Have you attempted to switch from kibble to a natural diet in the past? If so, what methods have you tried. Be specific.
I have been experimenting with adding chicken to baby food. Melinda doesn?t seem to mind. If she finds a ?larger? piece she will take it off and stash it. Bastien, on the other hand will only eat it if he doesn?t know it?s there. When he finds a piece, he looks at me like I put broccoli in his chocolate cake and won?t go near it again unless I finger feed him.
15. What other information about your ferret(s) would you like to share?
Bastien is on 2/5 ml Melatonin daily. He has not had surgery for his adrenal issues. The vet wants to try controlling them with medication instead of rushing into surgery.
16. If you can, please post a clear photograph of EACH of your ferrets directly below: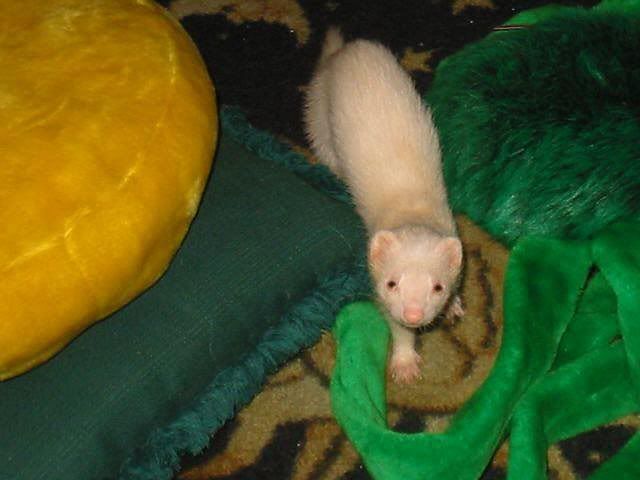 17.
a.) Do you understand that by starting this thread you commit to posting updates on the progress of your ferret(s) diet switch atleast every other day?**
Yes
b.) Do you understand that if you will be away from your computer for an extended period of time you will need to exchange phone numbers (or email addresses if you don't feel comfortable exchanging numbers)via private message with your assigned mentor, so that we can monitor your progress and ensure your ferret's saftey during the switch?
Yes
c.) Do you understand that any threads that have not been updated in for more then a week (with no explaination as to why you are absent) will result in the deletion of the thread?***
yes