Post by Forum Administrator on Oct 10, 2009 4:50:46 GMT -5
HF Forum Username:
nibblesandspazz

1. Where did you first learn about natural diets for ferrets?
This website
2. What kind of natural diet are you looking to feed?
No live prey, anything i could find at my local grocery store, occasionally frozen raw bought online.
3. Why are you interested in switching your ferrets to a natural diet?
My big girl's coat is always dry and not very soft, i heard a raw diet will help with that. i have also heard raw is better for them and for something so unhealthy their kibble sure is expensive. if I'm going to be paying that much for something i want it to be good for them

4. Are you willing to make the commitment?
Yes. ive been having to give one of my ferrets meds 3X a day, and syringe feed her water every 2 hours. i dont mind a bit

5. How many ferrets do you currently have?
3
What are their names?
nibbles, spazz, and tigger
Ages?
nibbles and spazz are 2 year old marshall's, tigger is 3 years old most likely from a breeder
Genders?
nibbles and tigger are female, spazz is male Do they have any health problems? tigger went to the vet yesterday. was diagnosed with stomach ulcers
Are they overweight?
nibbles is a bit chubbier than when i first bought her, possibly from winter
Underweight?
tigger isnt underweight but prettty close
6. What diet do you currently feed your ferrets? (Please include all treats, supplements, etc)
nibbles and spazz are on 8 in 1 moist, nibbles treats are bandits/ marshall premium ferret treats bacon flavor. tiggers kibble is marshalls premium ferret diet her treats are sheppard and greene chicken, bacon, ranch flavor
7. Have you ever tried to switch your ferrets to a natural diet in the past? If yes, what happened?
i didnt try very hard. i gave nibbles and spazz some heart and gizzrds. nibbles ate the heart but not the gizzards, spazz wouldnt touch any of it ( he is picky)
8. What additional information about yourself or your ferrets would you like to share?
i
ve tried and tried but tigger wont eat anything other than her kibble. she wont even eat if if its in soup form. spazz doesnt like treats and will lick raw stuff but wont eat it. nibbles is a bottomless pit. she will eat just about anything
9. How often during the week do you have access to a computer?
24/7
10. this is tigger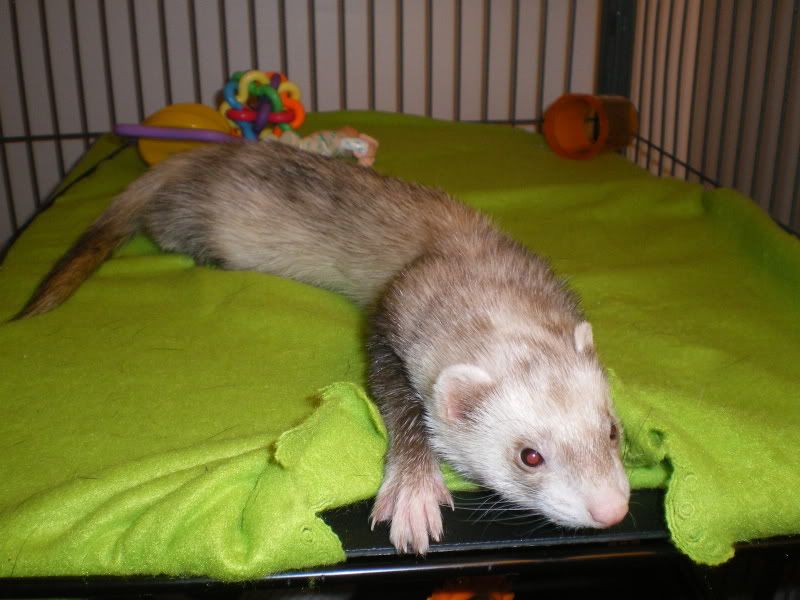 this is nibbles ( the dark one) and spazz (the tan one)