Post by Forum Administrator on Dec 3, 2009 14:24:13 GMT -5
Name:
HF Forum Username: Nox
1. Where did you first learn about natural diets for ferrets?
-Ferret.com forum
2. Please describe the type of diet you would like assistance in switching your ferret(s) to.
Be sure to include if you are interested in feeding whole prey (live or frozen-thawed) and if you are wanting to FULLY switch to a natural diet or PARTIALLY. If you are unsure what kind of diet you want to put your ferrets on, please express that and we can help you find the best type of natural diet for your ferret.
-I'm hoping to fully switch my fuzzies over to a raw diet eventually, maybe with some whole prey too.

3. Why are you interested in switching your ferrets to a natural diet?
-I have read a lot about how a ferret's diet affects its health, especially over time, and I want my babies to have long, healthy, happy lives. :3 Feeding raw seems like a good way to ensure good health as much as possible.

4. Do you understand that switching your ferret to a natural diet can be a lengthy, arduous process? Its not an overnight switch. It can be a commitment of several weeks or even months. Your HF Mentor will be more then happy to assist you in switchng your ferret(s) to a natural diet, but you need to be equally as commited. If you aren't willing to tough out a potentially lengthy switching process, or if you have major life changes approaching (baby on the way, moving, starting school, getting married/divorced, etc) then it might be a better idea to wait on switching your ferret's diet until you have more time. Are you willing to make the commitment?
-Yep, I think I'm pretty well aware of this... I've already started to introduce my fuzzies to raw foods, with mixed results. Two of them won't touch anything new, the other two seem to really love raw meat (sometimes). X3 I've definitely got work to do, just not sure exactly how to go about doing it...

5. How many ferrets do you currently have? What are their names? Ages? Genders? Do they have any health problems? Are they overweight? Underweight?
-I have four ferrets: Linus (intact hob, 7 months old), Pascha (Spayed female, 7 months old), Sherlock (neutered male, 1.5 years old), and Watson (neutered male, 1.5 years old). They are all in good health, but little Sherlock (who I just adopted along with Watson about a week ago) seems a bit skinny.

6. What diet do you currently feed your ferrets? (Please include all treats, supplements, etc)
-Kibble (available at all times): Totally Ferret and Evo Ferret.
-Treats (each ferret gets one or two a day): N-Bone chewwies, Wellness cat treats.
-Ferretone: Each ferret gets a couple of drops 3-4 times a week.
-Aunt Jeni's Home Made raw diet (chicken formula, and rabbit formula): I have been giving the ferrets a spoonful every night for the past couple of weeks now, but only Linus and Pascha will eat it (these two love it, though!)


7. Have you ever tried to switch your ferrets to a natural diet in the past? If yes, what happened?
-Yes, currently working on it with mixed results so far (explained above). :3

8. What additional information about yourself or your ferrets would you like to share?
-I would love to get as much advice and info as possible! n.n

9. How often during the week do you have access to a computer?
-Pretty much every day.

10. Please post a picture of each of your ferrets (if possible).
Watson: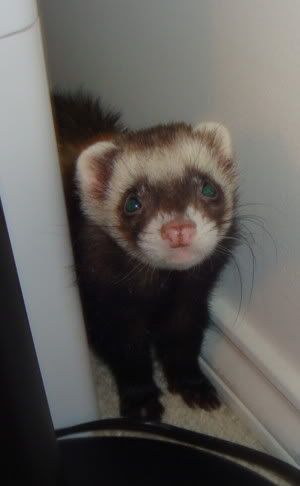 Sherlock:
Pascha: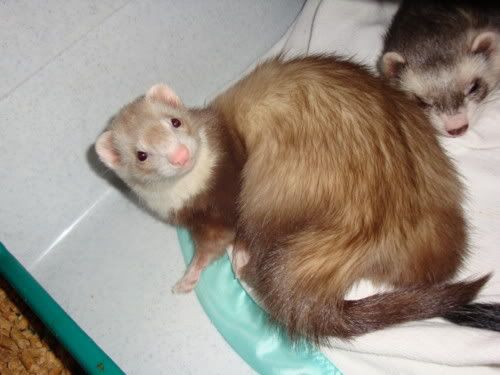 Linus: