Post by faunafreak on Feb 23, 2009 13:09:53 GMT -5
1. How many ferrets do you currently have? What are their names, ages, genders, and do they have any health problems (this is VERY important)?
4 - Oatmeal: 4 years/M/deaf, adrenal, chronic poo issues (i.e., seedy poo, mucousy poo, occasional stress-related diarrhea), possible chicken allergy. Keller: about 5 years (?)/M/blind & deaf/no known issues. Ushba: about 3 years/M/had "pudding poo" when I got him last Sunday - has cleared up, but still loose and mucousy. Llullu: about 2.5 years/F/displaying beginning symptoms of adrenal, currently being treated for vaginitis (sp?)
2. What are your ferrets currently eating? Include their main diet, plus any treats or supplements (such as duk soup).
Evo Red Small Bites supplemented w/soup (rabbit, duck, quail, H2O, kibble and Bone Meal powder w/Vitamin B12 supplement). Sometimes Totally Ferret Turkey/Venison formula is mixed in. Ushba and Llullu were on Wysong Vitality, but have shown a preference for the Evo. Ferretone offered as a treat. Keller gets an occasional thawed mouse (he's the only one who'll even touch them right now, or they'd all be getting mice)

3. What kind of diet do you want to switch to?
Raw/whole prey

4. Why do you want to switch to this more natural diet?
Have heard many good things from owners whose pets eat raw, and my veterinarian has also stated that she would prefer her clients to feed more whole prey (preferably mice) to their ferrets

5. Where/what/who got you interested in natural diets?
Have been interested for some time for myself and my pets. Can't remember exactly when - I've been toying with the idea for several years now, but never was able to actually switch over

6. Please list the current weight for your ferret(s). Do they appear overweight? Underweight? How is there muscle tone?
Oatmeal: 2.2 lbs (.98kg), Keller: 2.3 lbs (.99kg), Llullu: 1.1 lb (.5kg), Ushba: 2.07 lbs (.94kg). Vet says all are at average with & have decent muscle tone (Llullu is petitie & a bit more "squishy" than the others)
7. What is the condition of your ferret's teeth/gums? (can you get a picture?)
Keller has an ugly tooth, but recently had a dental scaling. Oatmeal has slight tartar buildup. Oatmeal, Llullu, & Ushba have black spots on back molars.
Llullu:
Oatmeal:
Usbha:
Keller:

8. Describe the texture/color of your ferrets coat.
Oatmeal: White w/silver markings; yellow spots on cheeks, yellowish cast around shoulder blades and tail. Currently shedding - coat is generally smooth with little roughness. Incoming summer coat softer/shorter. Keller: Ruby-eyed white. Yellowish cast to fur. Fur is thick w/some roughness. Llullu: Albino. Fur very soft, mostly white w/hint of yellow on tail. Usbha: Albino. Slight yellowish cast to fur - mainly around tail and ears. Fur rougher than others, but not extremely so.


9. How often does your ferret go to the bathroom?
Not certain - at least once every hour, possibly 2x. Will try to determine a more definite schedule
10. Does your ferret's feces and/or urine smell?
Yes - the bad pooers tend to smell worse, but none have no odor whatsoever.

11. Smell your ferret. How strong is their odor?
Llullu & Keller smell the strongest, but it's not bad. I practically have to stick my nose in their fur to smell them. Oatmeal has a very faint smell - almost like caramel - while Llullu has practically no scent
12. On a scale of 1-10, 1 being completely lethargic and 10 being "through the roof!" what is your ferret's energy level?
Keller: about a 4. Occasionally gets more excited but then usually runs into something and slows down again. Oatmeal & Ushba: 6-7 (unless the cats are within range - then Oatmeal jumps to an 8-10, poofy tail and all). Llullu: roughly 8 (again, the cats raise this number)

13. How excited is your ferret about meal time (when fed kibble)?
Free-fed kibble. They don't seem excited about it unless they run out and don't have access to any for a while (i.e., an hour or so)

14. Have you attempted to switch from kibble to a natural diet in the past? If so, what methods have you tried. Be specific.
With the ferrets, no. In the last month (week, with Ushba and Llullu) I've offered them thawed mice, but only Keller shows any interest (Ushba DID take the mouse to stash it earlier today, but showed no interest in it as food). I haven't brought myself to try live mice with the others, but I've been thinking about it for the past few days.
15. What other information about your ferret(s) would you like to share?
Oatmeal is currently on 200micrograms of Lupron monthly. Both he and Keller are participating in a study on B12 deficiency in ferrets. Each receives .25cc of vitamin B12 2x monthly. My veterinarian has assured me that they cannot overdose on the B12, and has advised me that overdosing CAN occur w/Vitamins A, K, and E. Starting today, Llullu will be receiving 100 micrograms of Lupron monthly, and is being given Clavamox (.1cc 2x daily for 14 days) to treat her vaginitis. She and Ushba received distemper shots today (2/23), with 1cc Benadryl to reduce likelihood of allergic reaction. Oatmeal & Keller did not receive distemper shots, but Oatmeal had a severe reaction (vomiting/explosive diarrhea) when given one last February. Currently battling flea infestation of home. All pets have been bathed and are combed regularly for fleas, couches have been dusted with baking soda/carpets sprayed (no animals allowed in area for over an hour) and vaccuumed, laundry is being washed as often as possible (limited drain field on washing machine), and all pets treated with Advantage Multi (4 drops each for Keller, Ushba, and Oatmeal; 2 drops for Llullu)

16. If you can, please post a clear photograph of EACH of your ferrets directly below:
Llullu (licking fingers):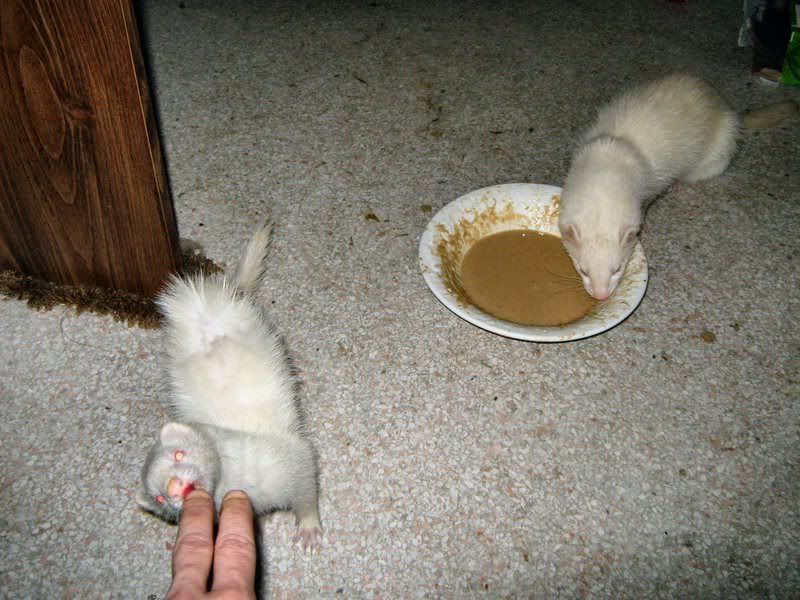 Ushba: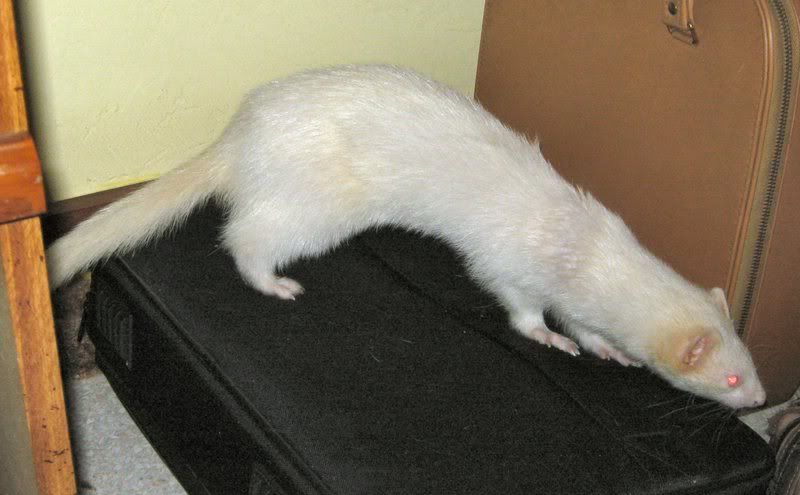 Oatmeal:
Keller:
17.
a.) Do you understand that by starting this thread you commit to posting updates on the progress of your ferret(s) diet switch atleast every other day?**
Yes - I will do my best to follow this.

b.) Do you understand that if you will be away from your computer for an extended period of time you will need to exchange phone numbers (or email addresses if you don't feel comfortable exchanging numbers)via private message with your assigned mentor, so that we can monitor your progress and ensure your ferret's saftey during the switch?
Absolutely
c.) Do you understand that any threads that have not been updated in for more then a week (with no explaination as to why you are absent) will result in the deletion of the thread?***
Yes