Post by spiritualtramp on Nov 22, 2009 14:24:01 GMT -5
I have sort of a unique design for feeding my kids. I've tried plastic bins as feeding dens before, but truly that didn't cut down on stashing, and half of the time, the kids would end up sleeping in the den
So in the interest of not finding bits of bone petrifying behind the couch, I devised a pretty fail safe and sanitary solution. It can be moved to the cage or outside of the cage easily, depending on my needs at that moment, and once the cardboard gets nasty, I just chuck it and replace it.
Basically I take a cardboard box and cut it in half, keeping three sides in tact and removing one as an 'entrance.' I punch two holes with scissors through the back, one of top of the other, about an inch apart. With two pear-shaped shower curtain hooks (which every ferret owner has in excess, I'm sure. Or you can buy them at WalMart for a couple bucks.) I shove one clip through the holes and clip it. A second clip goes around the base bar of the FN cage, or if it's inside the cage that day, around a bar in the cage. Secure that through the clip in the cardboard. This keeps the den in place, because my Morgan especially will try to stash the whole darn den, food attached, if given the chance.
Wash a third clip well and skewer that through the meat. If it's bone-in, I try to skewer it around or between two bones so it's not easily removed by eager stashers. For wings, between the two bones in the middle segment works well. For ribs and backs, it's pretty effortless to actually shove the clip through a flat bone like a scapula or sternum. Or, if the piece has a lot of cartilage or tough fascia, utilize those as your skewer points. Then clip that to the clip in the den and voila, no more stashing! Unfortunately this setup isn't great for organ, and so I feed livers, hearts, etc in bowls and separate the kids into cages, with Morgan outside the cage. This cuts down on stashing of those organs.
If your kids like to eat in the dark, keep the box whole! Mine tend to all crowd around it so the open concept works nicely for them, and it's in a dark enough corner between the cage and couch, where I've draped a dark curtain, that no one seems deterred.
The theory: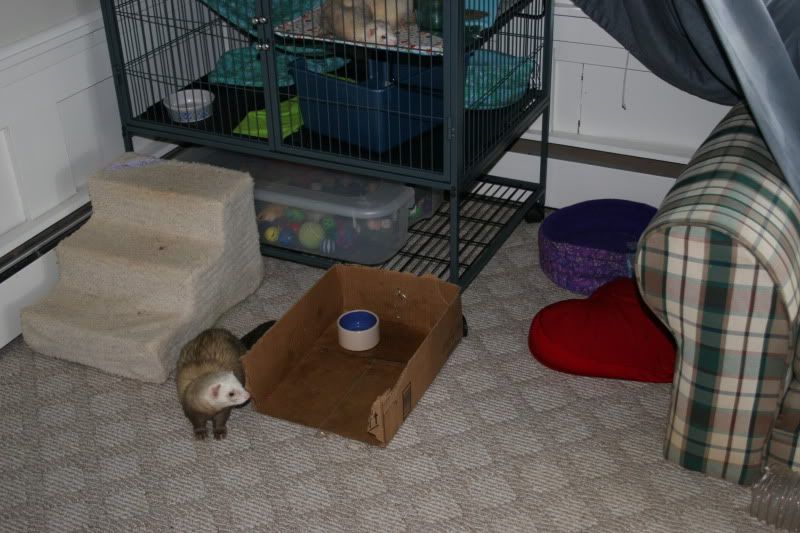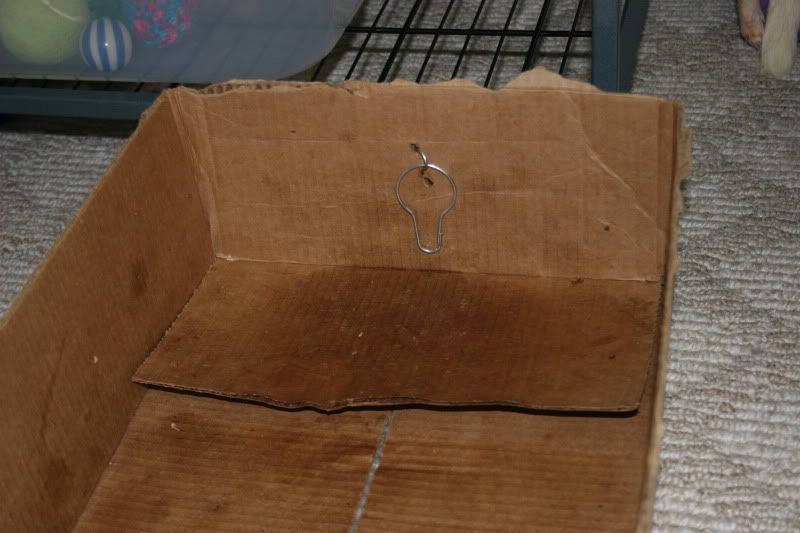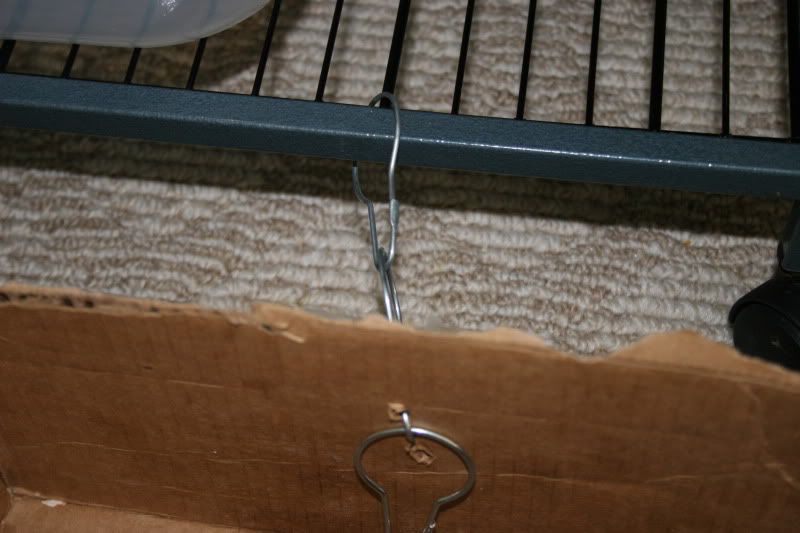 In use:
Hope this helps give people some ideas on how to make their own dens!