Post by Emilee on Aug 11, 2009 18:14:24 GMT -5
1. How many ferrets do you currently have? What are their names, ages, genders, and do they have any health problems (this is VERY important)?
Tootsie- Born on December 22, that makes her almost 8 months. She is a female and has been given a clean bill of health by the vet.
Jasper- Born on February 14, so 6 months. Male and also a healthy boy.
2. What are your ferrets currently eating? Include their main diet, plus any treats or supplements (such as duk soup).
They eat a mix of Chicken Soup for the Kitten Lover's Soul, Evo Ferret, and a littttle bit of Before Grain chicken cat food for emergencies.
Treats.... Jasper likes bacon flavored Bandits and Ferretone. He gets maybe 1-2 little bandits every other day and a lick of Ferretone every 3 days or so but a LOT more for nail clipping!
Tootsie likes N-Bones, Dogswell Vitality Duck jerky, and is a Ferretone MANIAC! She gets 1/3 of an N-Bone OR a piece of jerky about every other day and gets a little more 'Tone than Jasper does because I'm teaching her to let me hold her a little more.
Neither like duck soup too much but will eat kibble blended with water.
3. What kind of diet do you want to switch to?
I want to supplement them with raw... umm, every other day they'll have raw soups and ground meats and the days that aren't raw they'll have kibble. But for the actual RAW we'll be using ground meat/bones/organs from Hare-today.com
4. Why do you want to switch to this more natural diet?
I want my ferrets live the longest, healthiest lives they can.

5. Where/what/who got you interested in natural diets?
I researched ferrets a LOT before getting one and raw diets were always talked about and got me thinking.
6. Please list the current weight for your ferret(s). Do they appear overweight? Underweight? How is there muscle tone?
Umm... not sure what muscle tone would really be but they're pretty much the same
Tootsie- 1lb 8oz roughly. She's pretty petite but does not look overweight or underweight.
Jasper- 2lb 8oz roughly. Baby fat. He is VERY VERY pudgy.

7. What is the condition of your ferret's teeth/gums? (can you get a picture?)
Ummm, both are pretty clean and I know for sure that both are nice and SHARP!
I might be able to snap a pic of Jasper's but Tootsie, no way.
8. Describe the texture/color of your ferrets coat.
Tootsie has a summer coat. Pretty rough and long right now. She's got kind of a silver/roan mitt thing going on. Really cute.
Jasper has baby fur. Very short and soft. He's pretty oily but looks sable-ish. He's got white toes.

9. How often does your ferret go to the bathroom?
Ummm, both usually go at least once when they're out to play so I'd assume every 3-5 hours.
10. Does your ferret's feces and/or urine smell?
Tootsie- not really
Jasper- YESSSS YESYESYES
11. Smell your ferret. How strong is their odor?
Tootsie only smells if I sniff under her neck. She really has NO odor whatsoever including her poop.
Jasper could be mistaken for a skunk. He's skunky smelling.
12. On a scale of 1-10, 1 being completely lethargic and 10 being "through the roof!" what is your ferret's energy level?
Both, on a regular playtime, go about 3, 6, 10!!!!!!!!!!!, 7, 5, 4, and go find a place to sleep. On average, though, Tootsie maybe a 7 and Jasper an 8 although he falls asleep before her.
13. How excited is your ferret about meal time (when fed kibble)?
Well they have access to kibble 24/7. Tootsie will grab a bite and crunch occasionally.... Jasper gets realllll excited when he decides he's hungry and will literally lay in front of the dish and eat for about 5-8 minutes straight.

14. Have you attempted to switch from kibble to a natural diet in the past? If so, what methods have you tried. Be specific.
Umm, just a few weeks ago. I tried watering it down, ferretoning it down, putting on the nose- I'm going to have to scruff 'n' stuff this raw.
Jasper doesn't even know when there's raw on his nose the little doofus.

15. What other information about your ferret(s) would you like to share?
Both are extremely stubborn. If Tootsie doesn't like what I'm doing she'll hiss and bite me (I DO correct it,) and Jasper will look so pitiful and hilarious that sometimes I cave and give them their kibble.
Tootsie can be convinced to try some meat with the ferretone on it but the texture of the food completely grosses her out right now.
16. If you can, please post a clear photograph of EACH of your ferrets directly below:
If you want better pictures just ask- it would take me about 10 photos just to show you them perfectly
Tootsie:
Jasper: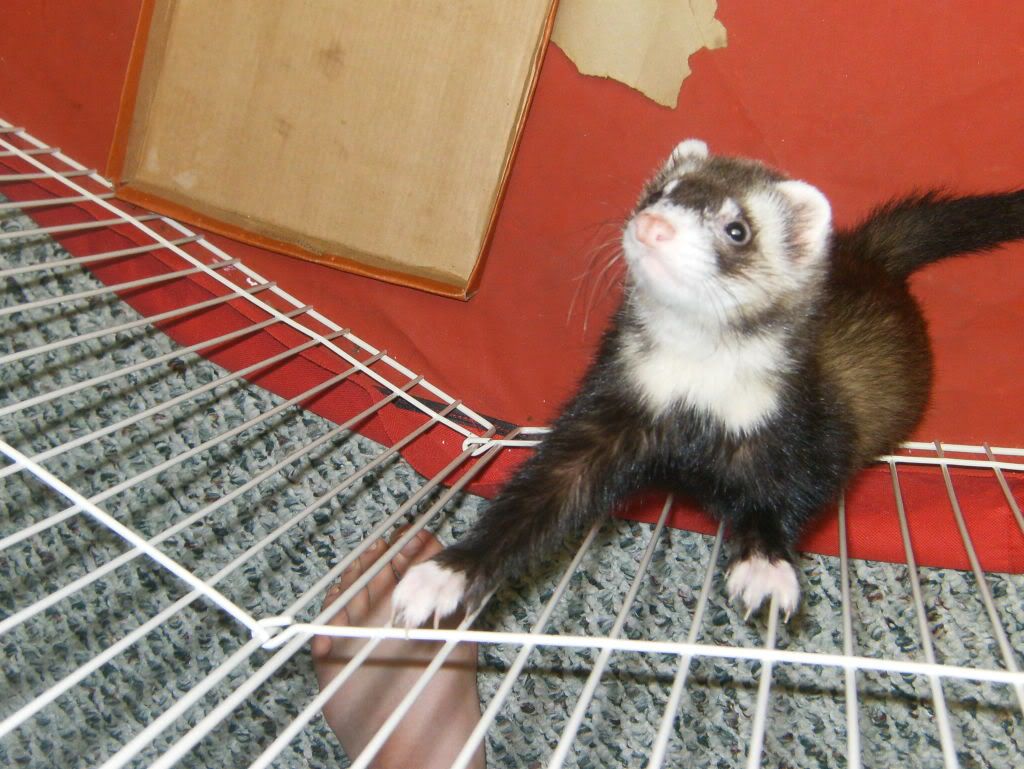 A nice clear picture but they're both in it (Jazz on left, Tootsie on right)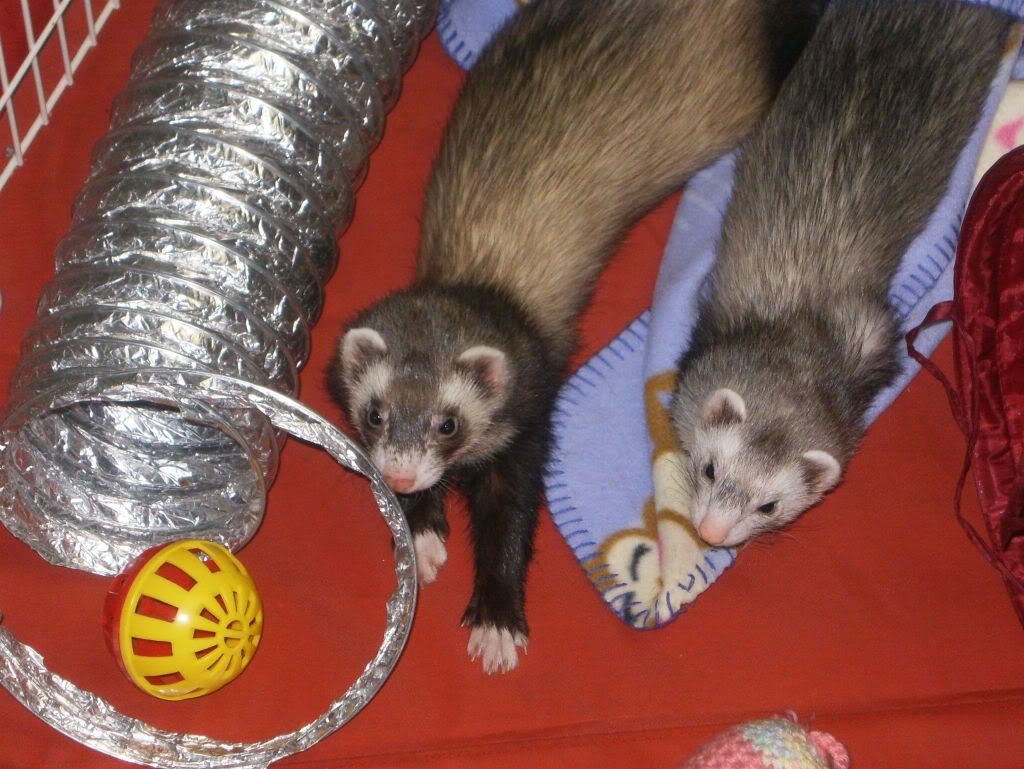 17.

a.) Do you understand that by starting this thread you commit to posting updates on the progress of your ferret(s) diet switch atleast every other day?**
Yes
b.) Do you understand that if you will be away from your computer for an extended period of time you will need to exchange phone numbers (or email addresses if you don't feel comfortable exchanging numbers)via private message with your assigned mentor, so that we can monitor your progress and ensure your ferret's saftey during the switch?
Yes
c.) Do you understand that any threads that have not been updated in for more then a week (with no explaination as to why you are absent) will result in the deletion of the thread?***
Yes
**Note 1: If you are unable to make it to a computer (such as on weekends) please indicate below so we know whether you just dont have computer access or if you have gone MIA
.
I usually don't go MIA and have steady access to a computer but my internet can be annoying sometimes- usually it's not bad enough to last more than two days though.

***Note 2: If you would like to try the switch again and you are committed to making regular updates you ARE welcome to restart your thread. Failure to provide regular updates will result in the deletion of your thread.
Read and understood.