Post by lilac on May 14, 2009 6:23:18 GMT -5
1.How many ferrets do you currently have? What are their names, ages, genders, and do they have any health problems (this is VERY important)?
I have 2 at the moment. Sjors and Sjimmie are brothers. Born May 17, 2004. Sjors is also a lot bigger then his brother. Some people even thought that Sjimmie was a girl. He is that small.
Sjors is a fixed male, 5 years of age. Is stressed and depressed from his brothers behavior.
Sjimmie is a fixed male, 5 years of age. He has adrenal Disease. Still shakes like a chihuahua. Low in weight.
They are in separate rooms until Sjimmie implant is fully working. That is the first week of June.

2.What are your ferrets currently eating? Include their main diet, plus any treats or supplements (such as duck soup).

They are eating Ferret Complete. They get chicken at times. Ferret Bits anti-hairball treats. They do not like duck soup.

3.What kind of diet do you want to switch to?
I rather do both. My friend is getting mice for their birthday to see what they do. Live mice that is. I feed them chicken raw when I buy it for me to eat. (cook for me,,lol)
4.Why do you want to switch to this more natural diet?
I have in the past given natural food for my snakes, cats, and dogs.
I feel it would be better for my ferrets.
5.Where/what/who got you interested in natural diets?
I live my life on natural foods. I would rather have my animals also on natural. I was sent here by ferret.com forums.
6.Please list the current weight for your ferret(s). Do they appear overweight? Underweight? How is there muscle tone?
Sjors is a bit under weight. That is do to his brother.
Sjimmie is underweight. Just a bit. That is do to his disease.
Both have good muscle tone.
7.What is the condition of your ferret's teeth/gums? (can you get a picture?)
Their teeth are yellow to black in color.The darker ones are in the back. Hard to take photos. 1 tooth looks bad to me. Kinda new to me as well. Vet told me that is normal. The ferrets I had in the past was not like this.
Sjors teeth
Sjimmies teeth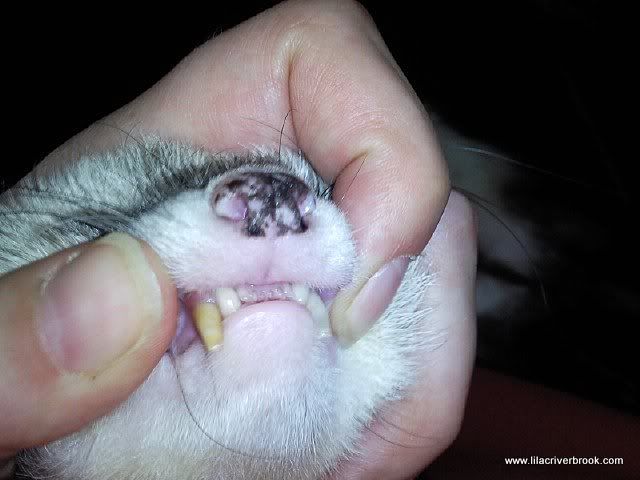 8.Describe the texture/color of your ferrets coat.
Both are a sable color. I think anyway.
Sjors is very oily/greasy. Soft too.
Sjimmie is ruff and dry. He has very dry skin.
9.How often does your ferret go to the bathroom?
Sjors, when in his own cage and is alone will go every 3 – 4 hours. When he is with his brother. He does not go, when he does it is between 6 to 8.
Sjimmie is about 3 – 4 hours.
10.Does your ferret's feces and/or urine smell?
YES. Very badly. When they do not go I can not tell, but when they do the whole house smells. To me it is like a sewer that has not been cleaned.
11.Smell your ferret. How strong is their odor?
For a fixed ferret. Bad. Sjimmie is worst, but that is because of the Adrenal Disease.
12.On a scale of 1-10, 1 being completely lethargic and 10 being "through the roof!" what is your ferret's energy level?
Sjors is about a 5.
Sjimmie is 8.
Sjimmie do not play at all.
Sjors will play but not always.

13.How excited is your ferret about meal time (when fed kibble)?
Well they have unlimited food. When I have chicken it is like they have not eaten in days. So to speak.


14.Have you attempted to switch from kibble to a natural diet in the past? If so, what methods have you tried. Be specific.
Well. No I have not with ferrets. I have only given them chicken. I also have boiled unsalted chicken until cooked and soft, put it all in a blender and puree it. So I have a baby food like texture.
15.What other information about your ferret(s) would you like to share?
I have gotten them from a rescue center that had no clue what they are doing. Well with ferrets that is. They had little knowledge about them. I just could not see these 2 there any more. I had to get them.
They love to go for walks. We go out side every day. Well in the evening.
16.If you can, please post a clear photograph of EACH of your ferrets directly below:
Here is Sjors.
This is Sjimmie. this was taken yesterday.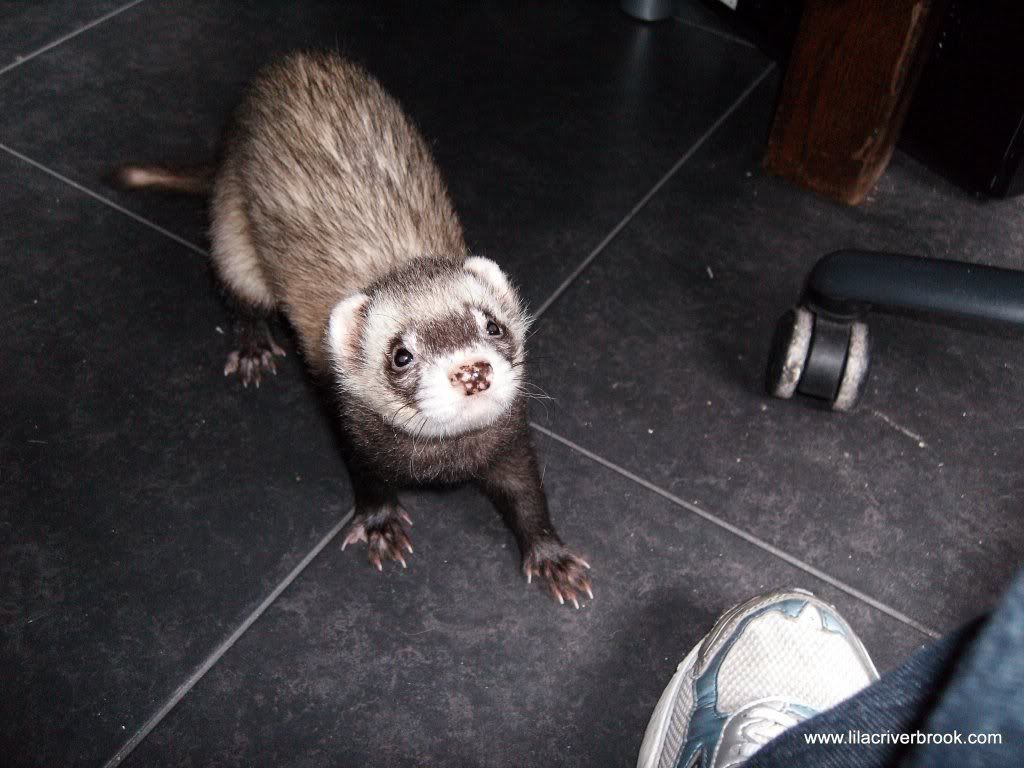 17.
a.) Do you understand that by starting this thread you commit to posting updates on the progress of your ferret(s) diet switch at least every other day?**
YES
b.) Do you understand that if you will be away from your computer for an extended period of time you will need to exchange phone numbers (or email addresses if you don't feel comfortable exchanging numbers)via private message with your assigned mentor, so that we can monitor your progress and ensure your ferret's safety during the switch?
YES
c.)Do you understand that any threads that have not been updated in for more then a week (with no explanation as to why you are absent) will result in the deletion of the thread?***
YES
**Note 1: If you are unable to make it to a computer (such as on weekends) please indicate below so we know whether you just don't have computer access or if you have gone MIA.
***Note 2: If you would like to try the switch again and you are committed to making regular updates you ARE welcome to restart your thread. Failure to provide regular updates will result in the deletion of your thread.