Post by kannamike on Mar 20, 2009 21:21:14 GMT -5
1. How many ferrets do you currently have? What are their names, ages, genders, and do they have any health problems (this is VERY important)?
I have one and his name is J.J. he is about 10-12 months old (I got him from a shelter and they weren't sure on his age)
One is all I can handle . No health problems (knock knock)
2. What are your ferrets currently eating? Include their main diet, plus any treats or supplements (such as duk soup).

Totally Ferret (vet recommended) supplemented with ferretvite and ferretlax. I haven't found a treat that he likes besides the supplements

3. What kind of diet do you want to switch to?
Whole Prey supplemented raw meaty bones

4. Why do you want to switch to this more natural diet?
The main reason is for health. it is to common that ferrets that are fed kibble are more likely contract some serious diseases. I have always been into nutrition and health cuz of some health problem myself Kibble is filled with grains and vegi's matter that our ferts can digest

5. Where/what/who got you interested in natural diets?
Books/Videos/Internet/Myself/ Websites and forums like this
6. Please list the current weight for your ferret(s). Do they appear overweight? Underweight? How is there muscle tone?
I would have to get back to you on the weight but he doesn't appear to be under/over weight and he seem to have good muscle tone
7. What is the condition of your ferret's teeth/gums? (can you get a picture?)

J.J. gums appear to be in good shape but his teeth are becoming yellow
Yes I can get a pic but if someone could show me how to post them please

8. Describe the texture/color of your ferrets coat.

Texture seems a little rough but its still soft. Color is really interesting he kinda looks like opossum white/grey. I also think he is molting/shedding cuz he is changing color from white/grey to off-white/grey. he had gotten in a fight with another fert and lost some hair on the back of his neck. His hair grew back but it grew back yellow. Its so funny.

9. How often does your ferret go to the bathroom?

5-7x day (guess) when I get home from work the litter box is pretty full
10. Does your ferret's feces and/or urine smell?
His dookie doesn't smell that bad but his pee smell so so bad (gag)
11. Smell your ferret. How strong is their odor?
He doesn't smell bad. he smell like an animal. except when he goes pee some gets on him and that smells

12. On a scale of 1-10, 1 being completely lethargic and 10 being "through the roof!" what is your ferret's energy level?
5-7 He gets fired up ones in a while I think I've only seen him like that maybe 5x

13. How excited is your ferret about meal time (when fed kibble)?
Could careless
14. Have you attempted to switch from kibble to a natural diet in the past? If so, what methods have you tried. Be specific.
Yes I have tried cutting up raw chicken breast into tiny pieces and sprinkled grounded kibble over it (shake and bake) touch one, never again. in addition to that, I've tried blended chicken breast poured on top of kibble never touched that. I left it there for more then 12 hours
15. What other information about your ferret(s) would you like to share?
He keeps going to this corner of our apartment and digging we tell him NO! first time. second time we give him a time out do you have any suggestion. the carpet is ruined He loves going to the beach and the park
16. If you can, please post a clear photograph of EACH of your ferrets directly below: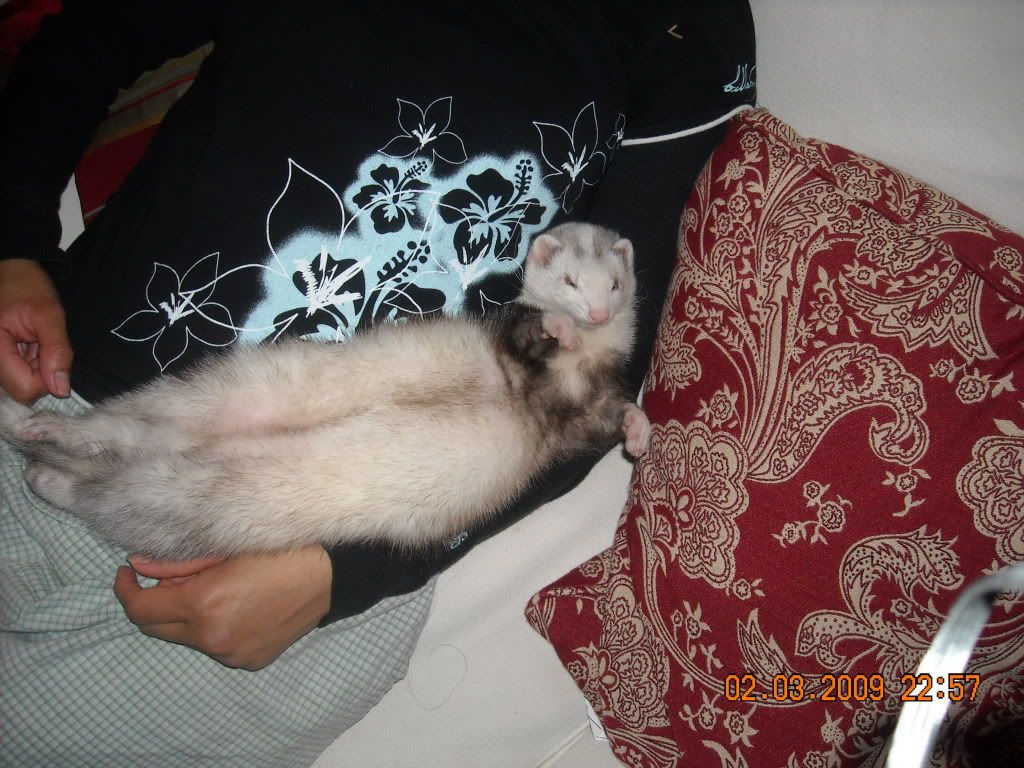 17.
a.) Do you understand that by starting this thread you commit to posting updates on the progress of your ferret(s) diet switch at least every other day?**
Yes bare with me I don't Internet at my house but there a coffee shop right down the street that has it
b.) Do you understand that if you will be away from your computer for an extended period of time you will need to exchange phone numbers (or email addresses if you don't feel comfortable exchanging numbers)via private message with your assigned mentor, so that we can monitor your progress and ensure your ferret's safety during the switch?

Yes of course
c.) Do you understand that any threads that have not been updated in for more then a week (with no explanation as to why you are absent) will result in the deletion of the thread?***

yes
**Note 1: If you are unable to make it to a computer (such as on weekends) please indicate below so we know whether you just don't have computer access or if you have gone MIA.
I don't have the Internet at my house but there a coffee shop right down the street that has it