Post by aleronferrets on Jul 19, 2008 12:23:17 GMT -5 Yes, Revolution is a derivative of Ivermectin, but one that has been studied extensively for use on a variety of animals with extremely good efficacy and safety.
This does not, however mean that it is 100% safe and no animal will ever have an issue. Read the packaging insert and you are told "Wash hands after use and wash off any product in contact with the skin immediately with soap and water". If it isn't safe to come in contact your your hands, why is it safe to come in contact with your pet's?
I will use spot ons (usually frontline) but only to treat flea infestations. I don't use them as a prevention and to be honest, if I was going to use a product for HW prevention it probably wouldn't be a spot on. FWIW last year was the first time I had to use a spot on due to fleas in over 2 years. My animals were flea free on their own for two years, until one of the dogs brought fleas in from daycare. My dogs have an active life and the ferrets go outdoors but still they managed to be flea free for that long. If I had been pre-treating with spot ons monthly, they would have been exposed to an unneeded chemcial 24+ times if I did it year round or 12+ times if I did it only during warm times. here are a couple links that may put people's minds at ease. When you see the damage done to our friends from parasitic invasions and you know there is a product available proven to stop those invasions, how can you NOT want to offer your pet protection?
My hope is that as the ferret community becomes more knowledgeable about holistic care, this sort of question is asked less and less often. Holistic care (and this is a holistic care forum correct?) is about far more than just natural feeding. It is about the animal as a whole. The animal's diet, lifestyle, medical care and environment. Sometimes when looking at the animal as a whole, allopathic medicine is called for but if your interest truly lies in holsitic care (not just a natural diet), you do everything possible to limit your pet's exposure to chemicals. Just because an animal doesn't have an immediate reaction doesn't mean that it isn't damaging over a period of time. All of the spot ons being sold are tested and considered "safe". Just because no reactions were observed in the testing doesn't mean no reactions ever happen. This is a friend's dog 4 hours after Advantix was applied to her: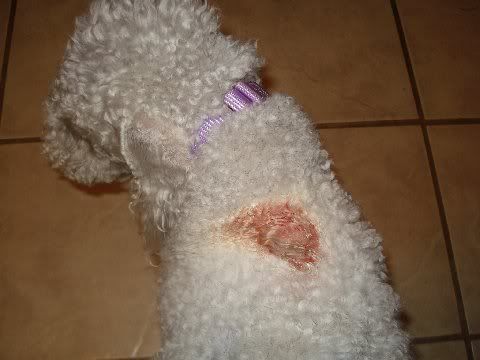 Her other dog had Advantix applied at the same time but had no reaction. Advantix is considered "safe" to use on dogs and has been tested. It obviously isn't safe to use on this dog though. I had a ferret who had a Frontline reaction that was similar but less severe.
This whole website is dedicated to a dog who started having seizures after having another "approved and tested" flea product applied:
www.elversonpuzzle.com/biospot.html
I remember when Revolution first came out there were were several posts on my dog email lists about dogs having severe reactions to it.
Some other reaction info found through a simple, quick search:
"GREYHOUND HAS SEVERE ADVERSE REACTION TO REVOLUTION - BEWARE
A healthy, five year old greyhound had Pfizer's topical selamectin product, "Revolution" applied, and shortly afterward presented with multiple symptoms: anemia, high kidney and liver values, paresis (partial paralysis). The dog was given steroids and transfusions of platelets, and improved. The dog was tapered off the steroids and he has now crashed again, showing weakness, anemia, other abnormal blood values. The dog's vet has put him back on the steroids. The treatment has already been very expensive, and the dog's owner is afraid that her dog will die or she will be forced to euthanize him due to the growing cost of treatment.
Pfizer agreed to pay for diagnostics but NOT FOR TREATMENT, which has become very costly. The FDA's Center for Veterinary Medicine's Adverse Drug Reactions report for this medication, and it lists all of the symptoms this dog has as well as others, including death as adverse reactions that have been seen from Revolution. Also, there are web pages written by other dog owners whose dogs have died or had severe adverse reactions to Revolution. Example lists show several cases where the autopsies showed low platelets and intracranial hemmorrhage as the cause of deaths in dogs who had recently been given Revolution.
The client information offered by Pfizer specifically says that the drug should not be used on "underweight" dogs and most greyhounds fall into that category. It also falls into the "unnecessary risk" category, as it is given for convenience - there are other, much safer drugs that can be used for heartworm prevention and for treatment of the various parasites. (Also in the FDA reports is evidence that "
www.rescuedracers.com/newsletter/LatestNews.asp
A longer story about a dog who died after Revolution was applied:
www.doglogic.com/revolution.htm
Also from the label: "ADVERSE REACTIONS:Pre-approval clinical trials:Following treatment with Revolution, transient localized alopecia with or without inflammation at ornear the site of application was observed in approximately 1% of 691 treated cats. Other signsobserved rarely (¡Ü0.5% of 1743 treated cats and dogs) included vomiting, loose stool or diarrheawith or without blood, anorexia, lethargy, salivation, tachypnea, and muscle tremors.Post-approval experience:In addition to the aforementioned clinical signs that were reported in pre-approval clinical trials,there have been reports of pruritis, urticaria, erythema, ataxia, fever, and rare reports of death. There have also been rare reports of seizures (see WARNINGS)."
Another tested and "safe" HW prevention called ProHeart6 dogs was pulled from the market after many, many dogs died as a result of it.
Another thing to keep in mind is that parasites are great at adapting to their environment. So if you use spot ons as a prevention repeatedly over many months, you could create a colony of fleas which are immune to it. I have known it to happen more than once. So if you are of the mind to use preventative spot ons, your best bet is to rotate products to prevent that from happening.
Another thing to keep in mind is that none of these spot ons are approved for or tested on ferrets. How safe and effective (or not) they are in ferrets is pretty much unknown.