Post by sherrylynne on Mar 16, 2009 10:53:41 GMT -5
Here's an initial post I made on Ferret Harmony:
There's this little ferret(isn't there always
), in the same pet store I frequent. She's been there for about 3 weeks, the last week by herself. Sweet kit. Identical to Lucrezia, right down to the black ring on her tail . I'd swear they were from the same set of parents. Identical that is, in every way except personality.
She is so scared/timid all the time. I've handled her several times, and I've never seen a ferret cling like that, and shiver/tremble. And not a wake up sort of tremble. When you pick up this little girl, all four legs immediately wrap around your hand and arm, and she will not willingly let go. Not even to explore. She IS curious, but too scared to let go of you to check anything out. I'll hold her, petting and talking for about 30 minutes, before she calms down enough to stop shaking. Every time someone else touches her though, her entire little body goes stiff as a board, and she starts shaking again. And every time I have to put her back, she literally has to be peeled off my arm.
Do you have any idea how many times I've almost pulled my debit card out, and just brought her home, still clinging to my arm?
I know with dogs, you'll get what's called an "Omega" dog sometimes. They are the ones who are very timid by nature, but they are also pack animals, and the omega's serve the purpose of being the alarm dog for the pack. Does anyone know if ferrets have an "omega" as well?
I do know the staff treat the ferret kits there pretty good, and whenever I talk to any of them about nip training and diet, pretty soon there are at least three of them gathered around asking questions about the ferrets(they get no training
), because they really do care.
And here is the post I made yesterday
, ya, I know, I know. No one needs to tell me,
Turns out she was a transfer from another store. She's 5 months old, she's also deaf as a post(explains the fear), and is just like Lucrezia for personality
She is also a major fear biter, revenge biter, and has a wee bit of a temper
She should fit right in
Without further ado, WILLOW: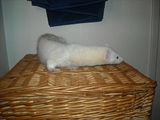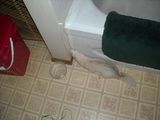 I've also found her trigger for biting already. For however long a 5 month old is in a pet store, the only times she would have been touched would be to be taken out of the cage, handled, and put BACK INTO the cage. I found a quick scoop up, then right back down, has done a lot to allay her fear of being right back into the cage all the time. She will actually let me pick her up(although it has to be a quick scoop, or she will bite my hands/fingers), without twisting to bite. And I do mean BITE. Draws blood every time.
She also cannot tolerate being scruffed. Freaks out every time. So, for those of you who have ferrets who can't be scruffed, how do you tell the fuzz(who's also deaf), biting is not appropriate?