Post by starrlamia on Oct 4, 2008 15:28:47 GMT -5
Guili suggested I start this thread.
Im not doing a full switch untill dec/jan but Ive started just as snacks, I figure I can work on their acceptance of raw food in the meanwhile.
soo...
1. How many ferrets do you currently have? What are their names, ages, genders, and do they have any health problems (this is VERY important)?
2 kids
Luna-8 months Female, no health problems
Oscar-6 months Male, No health problems.
2. What are your ferrets currently eating? Include their main diet, plus any treats or supplements (such as duk soup).
Zupreem and Wellness Core. Switching out the Zupreem for Orijen.
Tone, Totally Ferret Chicken Bites when they will eat them.
They do eat duck soup but not as often as they should.
The recipe:
3 large chicken legs/thighs
1 tbsp tone
1/2 cup kibble
Water as needed.
I am attempting to get them to eat little bits of NV Lamb patty... I put some in their mouths and Luna licked at my fingers and ran away, and Oscar acted like I poisoned him and flipped out when I put him down.
3. What kind of diet do you want to switch to?
At this point raw, but maybe whole prey in the future
4. Why do you want to switch to this more natural diet?
To have my kids lead a healthier life, I hate kibble and am really getting picky about what they eat. Plus Ive had a kid with insulinoma and Im hoping a healthier diet will help avoid that.
5. Where/what/who got you interested in natural diets?
My kids health and nutrition, I originally started learning more about their diets when our Bridge baby Bandit got insulinoma.

6. Please list the current weight for your ferret(s). Do they appear overweight? Underweight? How is there muscle tone?
uh oh, I have no idea. lol
They both seem to be a good weight, Luna has slimmed down from her baby weight, and Oscar has gained his little amount but isnt to big, he will even out in the next month or two. Oscar is pretty solid and seems to have good muscle tone, Luna is about average, not as fit as Oscar.

7. What is the condition of your ferret's teeth/gums? (can you get a picture?)
I will look when I get home, Im at work.
8. Describe the texture/color of your ferrets coat.
Luna is a silver with some yellowing around her butt, her fur is super fluffy and so soft.
Oscar is a sable he is soft but isnt quite as fluffy as Luna
9. How often does your ferret go to the bathroom?
Not sure, probably every hour or so.
10. Does your ferret's feces and/or urine smell?
They arent horrible but then Im used to it!
11. Smell your ferret. How strong is their odor?
They are fairly strong when you put them to your nose, and when you walk in their room you can smell ferret but it isnt overwhelming.
12. On a scale of 1-10, 1 being completely lethargic and 10 being "through the roof!" what is your ferret's energy level?
Luna is a 6, she is laid back but gets hyper at times.
Oscar is a 9, he is so energetic and loves to explore.
13. How excited is your ferret about meal time (when fed kibble)?
Oscar runs right into the cage and grabs kibble to stash.
Luna is indifferent.
14. Have you attempted to switch from kibble to a natural diet in the past? If so, what methods have you tried. Be specific.
Nope.
15. What other information about your ferret(s) would you like to share?
They my babies
16. If you can, please post a clear photograph of EACH of your ferrets directly below: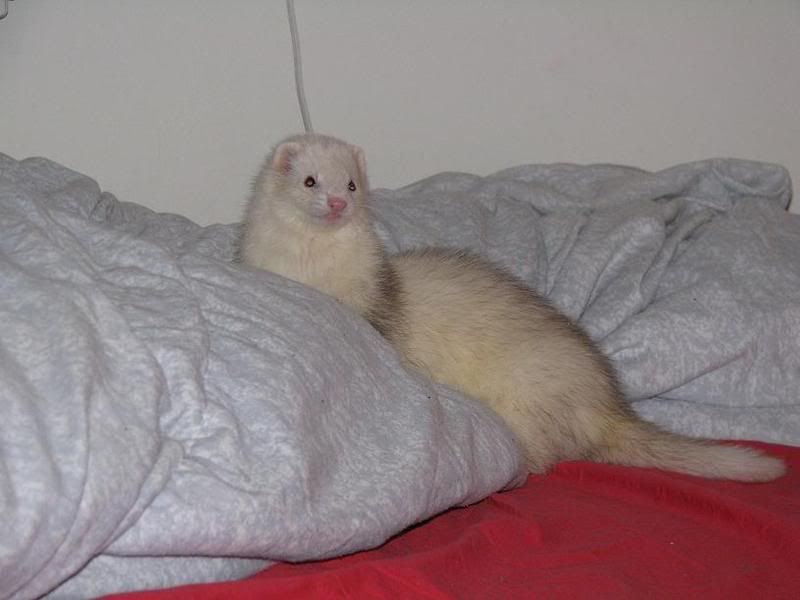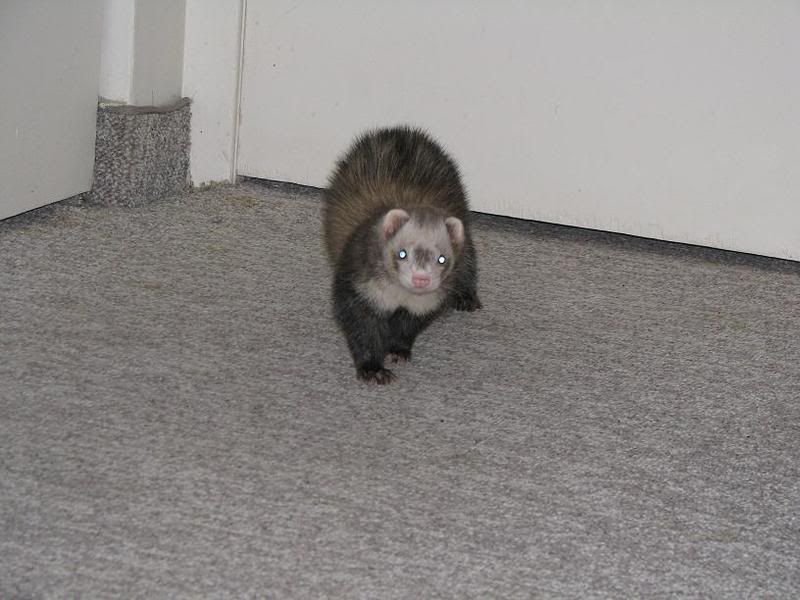 I hope they are clear enough.
17.
a.) Do you understand that by starting this thread you commit to posting updates on the progress of your ferret(s) diet switch atleast every other day?**
Yup!
b.) Do you understand that if you will be away from your computer for an extended period of time you will need to exchange phone numbers (or email addresses if you don't feel comfortable exchanging numbers)via private message with your assigned mentor, so that we can monitor your progress and ensure your ferret's saftey during the switch?
Yup!
c.) Do you understand that any threads that have not been updated in for more then a week (with no explaination as to why you are absent) will result in the deletion of the thread?***
Yup!
**Note 1: If you are unable to make it to a computer (such as on weekends) please indicate below so we know whether you just dont have computer access or if you have gone MIA.
***Note 2: If you would like to try the switch again and you are committed to making regular updates you ARE welcome to restart your thread. Failure to provide regular updates will result in the deletion of your thread.